1 Year, 0 Justice! Safe workplaces now! Justice for Stephen Corilla!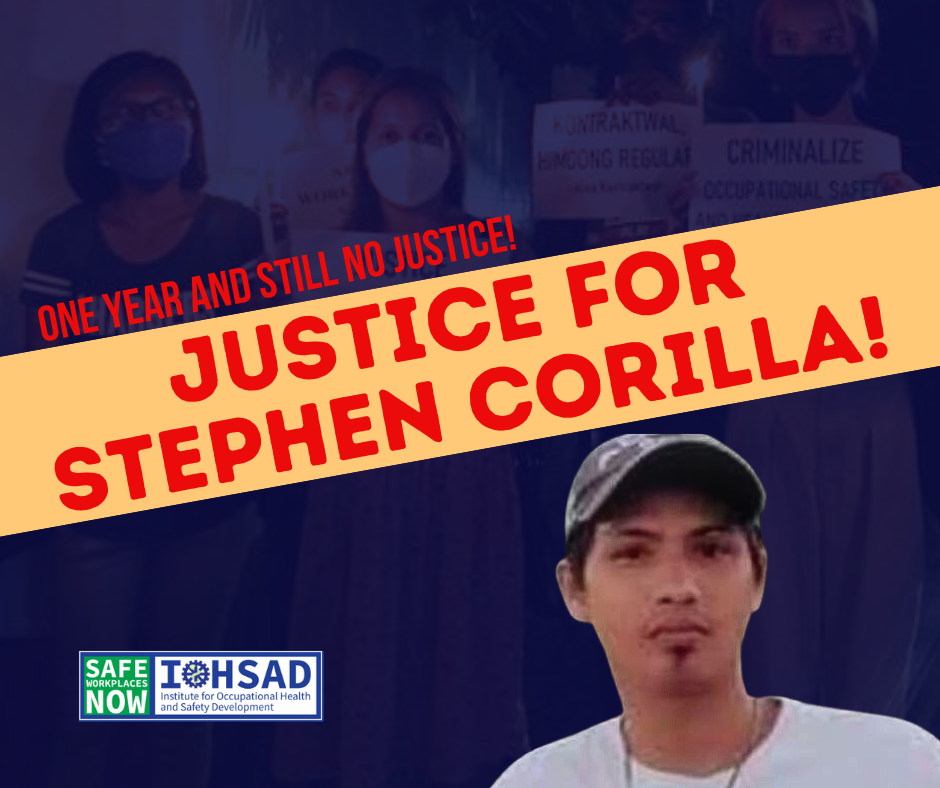 One year has passed since Stephen Corilla died while cleaning a pulverizer machine inside the Universal Robina Corporation factory in Mandaue, Cebu on June 2, 2022. It was clear from the Department of Labor and Employment – Central Visayas (DOLE 7) investigation that the machine's interlock safety device was defective.
It has also been a year since we passed, with the help of the Gabriela Women's Party and KOALISYONG MAKABAYAN, HB 2126 or the proposal to amend the OSH Law to criminalize violations of the occupational safety and health standard. The number of workers' deaths due to unsafe work continues to increase. How many more workers have to die before Congress acts and passes it?
Our fight for justice for Stephen and other victims of OSH rights violations continues. Companies that grossly violated OSH standards should be held accountable for negligence of workers' health and safety.
The OSH Law should provide stricter penalties and punishments for non-compliance with OSH standards and gross violations that result in workers' death and illnesses. The government should ensure that occupational safety and health, a fundamental principle and right at work, be protected at all times.
Justice for Stephen Corilla!
Criminalize OSH standards violations, now!
Safe workplaces now!
You can download the findings on the Stephen Corilla Case: Crushed to Death by Unsafe Working Conditions below. This report was prepared by the following organizations last June 2022:
Institute for Occupational Health and Safety Development (IOHSAD),
ALSA Kontraktwal – Cebu, Alyansa sa mga Mamumuo sa Sugbo – Kilusang Mayo
Uno (AMA Sugbo-KMU), Kilusang Mayo Uno, Center for Trade Union and Human
Rights (CTUHR), Tambisan sa Sining, Metal Workers Alliance of the Philippines
(MWAP), Ecumenical Institute for Labor Education and Research, Inc. (EILER),
Visayas Human Development Agency, Inc. (VIHDA)